Are you wasting valuable time during the design process?
I'm Emmett Ross and my goal is to improve your CATIA V5 productivity and efficiency any way I can. My specialty is programming and automation, but I also have a few non-macro related tips and tricks that I think will help speed up and improve your overall CATIA skills.
If you've ever thought to yourself "there has to be a better way to do this," while using CATIA V5, then know you're probably right. There probably is a better way to complete your tasks you just don't know what it is and you don't have time to read a boring, expensive, thousand page manual on every single CATIA feature. If so, then CATIA V5 Tips and Tricks is for you.
---
What You'll Learn
CATIA V5 Tips and Tricks by Emmett Ross contains over 70 tips to improve your CATIA design efficiency and productivity! You'll learn how to: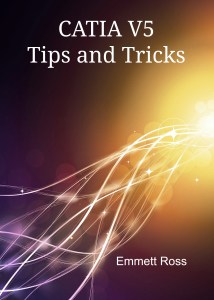 Optimize the specification tree
Create sketches faster
Set Tools/Options settings for the best performance
Geometry creation best practices
Manage large assembly files
Manage large drawing files
Career advice
And much more!
---
 CATIA V5 Tips and Tricks Sample
As a sample, I've shown below one of my favorite tips from the book: the parameterization analysis tool: One of the most useful yet underutilized tools in CATIA is parameterization analysis. When a CATPart is the active document go to Tools > Parameterization analysis. This nifty little tool allows you to easily list elements in a pop-up window that are important and may be hidden or buried in your spec tree. For example, not only can you can find all sketches, it will also sort by all under, over, or fully constrained sketches!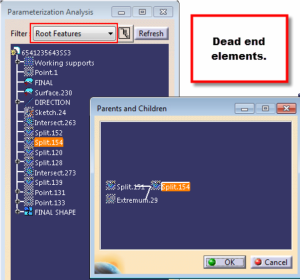 If you've got a large part with lots of surfaces, one way to decrease the file size is getting rid of all the dead end or useless geometry, which can easily be found by doing a Parameterization analysis and filtering by Root Features. There are multiple ways to accomplish a task in CATIA. The delete deactivate features macro listed later on in this text scrolls through the tree and deletes all deactivated components, but another way to find them is Parameterization analysis and sort by Inactivated Features. You can delete the features from inside the PA window too. Parameterization analysis is a great tool for checking and cleaning up your part files before you submit them to your customer or manager.
---
 What Readers Are Saying
"Emmett knows his stuff; a true CATIA guru…" -Jayden Smith, October 2014
"Great shortcut and tips for Catia V5. Definitely helps in accelerating the design process and excellent guide for anyone who wants to truly learn catia v5. This is not for a beginner as the UI of catia v5 takes a bit of getting use to and this manual is geared for the advance user." -Amazon Customer, January 15, 2015
"I would like to thank you for the book Tips and Tricks, its already getting me noticed at work." -Bright, Sep 2015
---
Questions
This book is not a beginner's guide nor is it for those who have never used CATIA before. A basic understanding of the software is required. The purpose is to share tips and tricks you can put to use and get results immediately. The text was written primarily for CATIA V5 for Windows, R20. Most tips should work for all R versions but please be aware some may not.
Q: What if I hate it?
A: Well, hate is a strong word… But if you hate the book, I don't want your money. Just reply to your purchase receipt email within 30 days and I will issue a refund.
Q; What formats is the book available in?
A: This book is available as a downloadable PDF, Kindle version, or paperback.
Q; You didn't answer my question.
A: That's not a question. 🙂 If you still have questions after reading this page please get in touch and I will do my best to answer.
---