Attention CATIA users…
Are you tired of repeating those same time-consuming CATIA processes over and over? Tired of thousands of mouse clicks? Don't you wish there was a better way to do things?
What if you could rid yourself those hundreds of extra mouse clicks by teaching yourself how to write macros while impressing your bosses and coworkers in the process?


Introducing the internet's most complete guide to teach you how to program CATIA macros!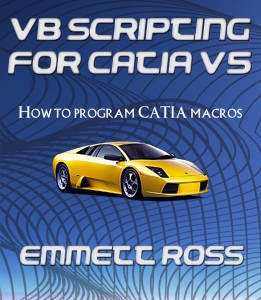 Looking for a CATIA V5 macro tutorial? Then you've come to the right place. With this VB Scripting for CATIA V5 eBook you can learn to create the perfect macro to automate your time consuming processes. If you hired an engineering services company to write macros for you or your company it would cost you thousands of dollars. Why not teach yourself and impresses your bosses? The evolution of an engineer is all about continuous learning. Several companies offer CATIA macro training classes but the cost is several thousands of dollars.
I've created hundreds of macros and included some example codes in the book. This 182 page ebook come as a downloadable pdf file which you can view right on your PC; eReader not required!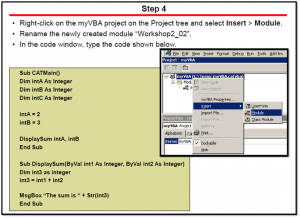 The complete VB Scripting for CATIA V5 Table of Contents is embedded below. Please note, the 100 pages of step-by-step tutorials are not listed in the table of contents but can be viewed here.
 Testimonials – Hear What Others Are Saying About VB Scripting for CATIA V5. The following are comments received from actual customers (and used with their permission):

"Learning some CATIA VBA has been a big help to me. There's been many instances where I've been able to take routine tasks and turn hours of work into minutes or seconds. I feel like I've only learned a little but that knowledge has carried over into a much greater understanding to other related areas of my work, such as a better understanding of how to work with our PLM system. Thanks!" – Ben W.
"I struggled [a] lot to get this kind of study material. I was searching and  finally now I'm having your ebook. It's great…Thank you for your effort to build this." 
-Shrinivas H.
"Thank you very very much for the book!" – Robert
"You are the best Mr. Ross…I love your work, keep it coming and we are proud of you as a friend." -Z
"The how-to macro book all CATIA programmers have been waiting for!"-N.T.
"I have recently bought your book and it amazingly helped my CATIA understanding. It does not only help you with macro programming but it helps you to understand how the software works which I find a real advantage." – Adam N. 1-22-2013
"Within some hours reading your book, I have learned more than searching the web for about a week." – Chris 3/14/13
"I have learned a lot in the last few days, courtesy your wonderful book. I have made a few macros and they are working fine." -P.  4/9/13
And that's not nearly all. You'll discover much more in this rare ebook. And what's really great is that
You Can Begin Learning How to Write VBA macros In The Next 30 Seconds!
You can order this amazing system right now and actually start discovering the secret to CATIA VBA within 30 seconds… yes, that is right… WITHIN 30 SECONDS you can begin automating those repetitive designer tasks! All you need to do is open the eBook on your computer and begin reading! All for a one time fee of $29.99! The way it works is simple and fast. Just click one of the blue links (like this one: order now) and you'll be taken to my 100% secure order page.
As soon as your order is processed (takes about 45 seconds), you'll be taken to the "Download Page" where you can instantly download the entire 182 page manual. Please note that the file is in a PDF format, so you will need Adobe PDF Reader to view it and print it. You can get the reader for free at Adobe.com.

Plus: If you're not 100% satisfied for any reason, just ask for your money back within 60 days and it's yours!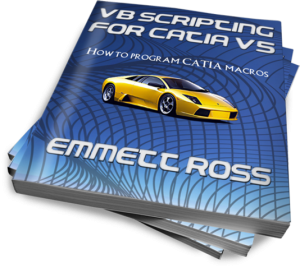 ***Update 5.19.13: Now available in English and French!***
P.S. This Third Edition launch price of only $29.99 is only temporary. The price will be jumping up to $44.99 (USD) on June 1st, 2013 so if you're at all interested you should buy right now! The ebook price is a great value as the paperback version sells for $59.99. If your preferred method of payment is not available please feel free to contact me and maybe we can work something out.
Not ready to buy yet? To get a taste of the type of material found in the book check out our free additional articles or join our email newsletter to receive a special Preview edition download of the VB Scripting for CATIA V5 ebook.
Share and Enjoy