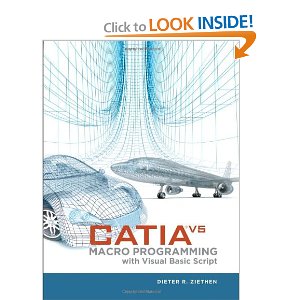 CATIA V5 Macro Programming with Visual Basic Script by Dieter Ziethen is a new book coming out in April of this year (2013). The description reads: CATIA V5 Macro Programming with Visual Basic Script shows you, step by step, how to create your own macros that automate repetitive tasks, accelerate design procedures, and automatically generate complex geometries. Sounds familiar! I fully intend on purchasing this book to review it and so I will be able to let others know if I recommend it or not. I assume that it will re released with more information and with a more professional look to it than my book currently does, due to the fact that there is a true publisher behind it while I do all my own publishing.
However, I do have a few reasons why I think you should consider purchasing VB Scripting for CATIA V5 over CATIA V5 Macro Programming. My book is in the electronic form of a pdf file which means that I can update it at any time and send you the latest version while using a publisher usually results in a long review process plus printing time. I also am available to personally answer any questions that may arise, as many of you know. I also have a 60 day money back guarantee, if you're unhappy with my book simply return it and buy theirs! Oh, and I forgot to mention, my book is less than half the price.
Pre-order Catia V5 Macro Programming here. Check back after April 2013 for my full analysis and review.
Share and Enjoy